Trachoulas / Trafoulas canyon
---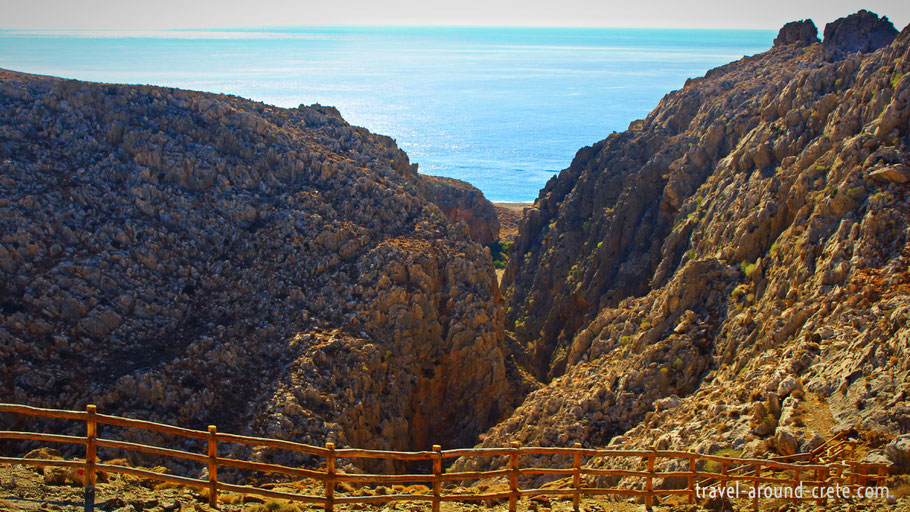 The Trachoulas or Trafoulas Gorge is located on the south coast of Heraklion.
The approach is a bit difficult as the roads are very curvy and not the best. You first go till Lentas and there you turn left, direction to the east, to follow the gravel road until you reach the port of Agios Faulos.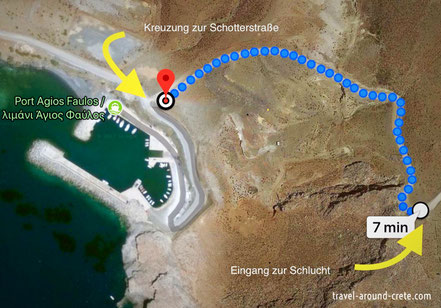 For those who are careful and take care of their rental car will be at the port the possibility to park it safe.

Shortly before the harbor, about 50m, leads a strongly rising extremely bad gravel road left up to the entrance of the gorge. Who wants to venture by car and also arrives, can park directly at the gorge on the street.

For those who prefer to leave the car at the port and walk 500 meters to the gorge on foot, there are first to overcome the 80 vertical meters in the sun.
At the top, a nice path leads downhill to the entrance of the gorge.
There is a wooden handrail attached so the steep path is well secured downhill.
It's a pretty easy hike and beautiful oleander trees are along the path. From time to time goats jump from one side to the other. After about 30 minutes you will arrive in the beautiful Trachoulas beach.
The sea has wonderful colors and it gets deep immediately.
Be sure to bring your mask and snorkel!
If you are afraid of naked people, you should avoid the beach, because the friends of naturism are here.
The beach itself is a very fine and dark sandy beach which is interrupted in half by flat rocks.
Video:
The short video shows the way from the parking till the beach. Enjoy and have fun!