---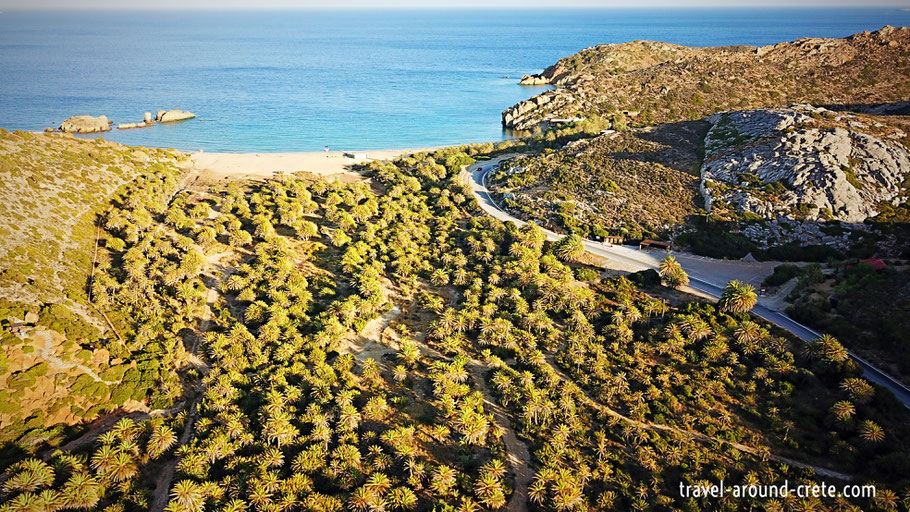 The beautiful and unique Vai Palm Beach is located in the east of the island of Crete.
The nature reserve is easy to reach on asphalted roads. The only difficulty is the long trip if you are not situated close to the east of Crete.
The trip from Heraklion to Vai will take about 2,5 hours of driving time till you find the parking lot infront of the beach. Coming from the direction Heraklion take the E75 until you arrive in Sitia at the roundabout in the town center. Take the first exit on the right and after 100 meters turn left at the traffic lights. Then you are already on the right way to the unique beach.

A few kilometers after Sitia you will see two signs to continue to Vai. Either you turn to the left over a "mountain" directly to the beach or, my recommendation, continue straight till you reach the village Palekastro as you can get some snacks or drinks there. Much cheaper than to buy the things later directly in the kiosk at the beach.
The car park in Vai directly at the beach costs 2,50 Euro per car. You should take all personal belongings and valuables from the car with you. Generally, caution is advised at all these very tourist places!
On the beach you have the possibility to rent sun beds or you just lie under one of the many palm trees directly to the beach. The sooner you arrive in Vai, the better it is, as many day trips come with buses or rental cars that want to see this attraction.

My recommendation is:
Enjoy the unique sunrise in Vai with a small picnic under palm trees, and when it slowly gets crowded just leave the beach and continue passing Palekastro to Kato Zakros or Xerokambos. There you can enjoy the rest of the day alone by the beach!