The Venetian Fortress Koules
---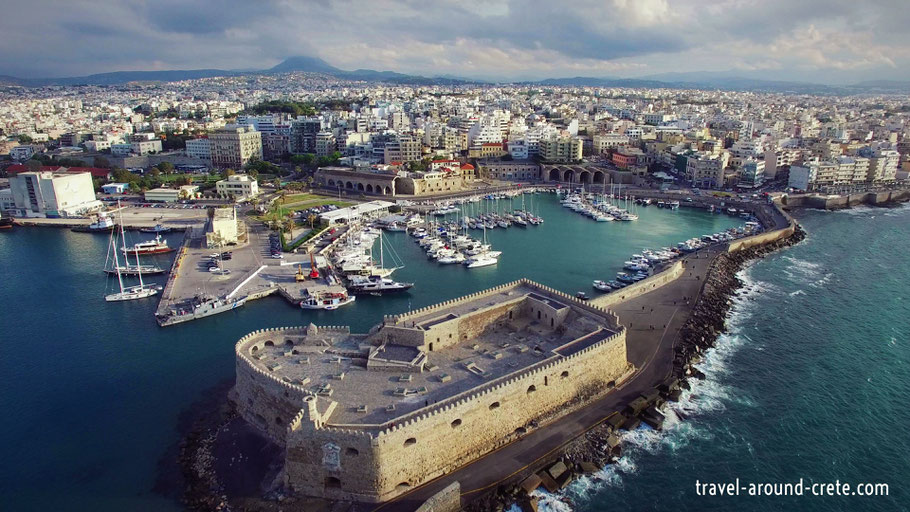 The Venetian Marine Fortress of heraklion is open now to visitors for only 2 Euros entrance fee.
The museum is suitable for all ages. The entrance is at the beginning of the long port wall in the Venetian port of Heraklion.
You can first look at the exhibition and then take a nice walk to the end of the harbor wall to the lighthouse.
The Venetian fortress has different names. The most famous is "Koules" but also "Rocca a Mare" or "Castello a Mare" are common expressions.
Opening hours:
Summer Season
From 1st of May till 30th of September 
daily from 8:00 - 20:00 o'clock
Winter Season
From 1st of October till 30th of April
daily from 8:00 - 15:00 o'clock
Entrance fee: 2 Euro 
Impressions from inside the Fortress
After 6 years of renovation the fortress in the entrence of the port was opend again.
It was rebuild from 1523 until 1540 as there were only ruins left. The fortress's main axis was oriented to the East to protect the harbor. It was built atop a natural rocky outcrop. 
The fortress was built in 2 levels. In the ground floor were 26 rooms used as storage for food, monitions and a prision.
In the upper floor were the firearms, a small church and the troop quaters.
The most famous prisoner in Koules was Daskalogiannis.
In the exebithion you will also see the finds collected from the shipwrecks around Dia Island. They were discovered by the explorer Jacques Cousteau in 1976.
You should calculate about 1 hour for the tour and enjoy the view from the top of the fortress!
Also a conference room with a video beamer can be rented for events.
After the museum you can strall along the port wall till the not very impressive lighthouse in the end of the port. There you can see the new tidal power station! :)
Watch the Heraklion Port Video!
Impressions from outside the Fortress