---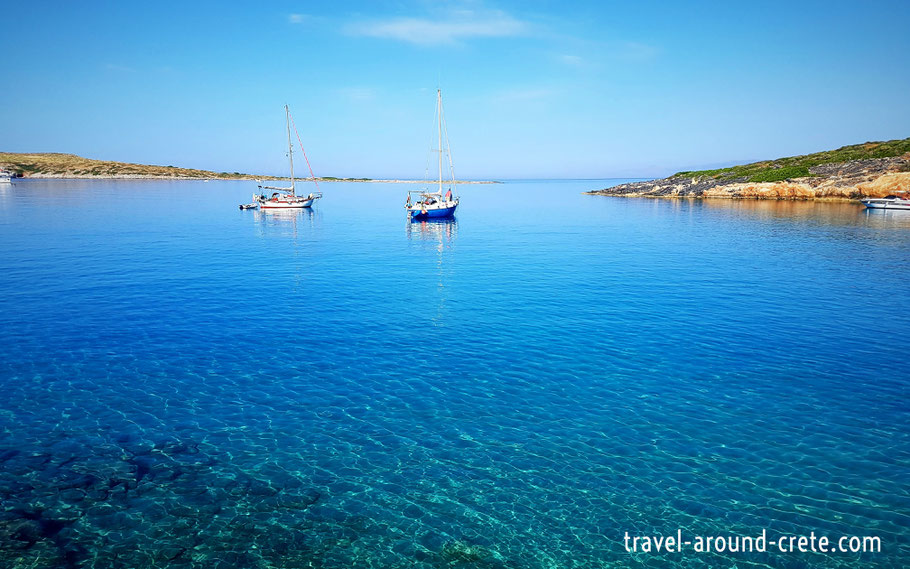 The Kolokitha Beach offers crystal clear water and a fantastic ambience.

And I must confess that the beach is nothing special. It is the sea, which is simply incredibly beautiful and crystal clear.
The beach is found on the first of the two islands before Elounda called Kalidou.
When coming from Agios Nikolaos, you have to turn to the right at a small mini market, just before the port of Elounda, at an acute angle (about 160 °).
Follow the small road along the coast until you reach the island via a very bumpy bridge.

Right there is a small tavern "Kanali" which I can highly recommend. So far, from all attempts in Elounda and surroundings the best food. :)
If you are neither hungry nor thirsty, continue along the gravelroad until you come to a crossroads where you turn right. There is also the sign for the beach. Then climb up a bumpy hill until you reach the parking lot just before the church "Agios Lukas" . From now on you will have to walk on foot.
The trail is steadily downhill and is neither difficult nor strenuous but due to rocks and bushes is not suitable for prams.
Arrived at the bottom, you will see the marvelous sight of caribbean colors of the sea!
Swimming, snorkeling, rock climbing and even water sports are available in this small bay - but nothing to eat or drink!

A small drawback, however, is that a pirate boat departing daily from Hersonissos stay in the bay. it looks really nice in combination with the sea and the outlying islands ... but on the boat there are "unfortunately" no pirates but a few party people enjoying the booze cruise. Loud music, alcohol and party... but they all stay on the boat so if you don't mind the music, there is nothing to worry about!

Personally it does not bother me, I find it even pretty and maybe you can make one or the other nice photo of the beach with great sea, the islands and the pirate boat! But if you want to have peace, you should come early in the morning and you should leave again around lunch time.