---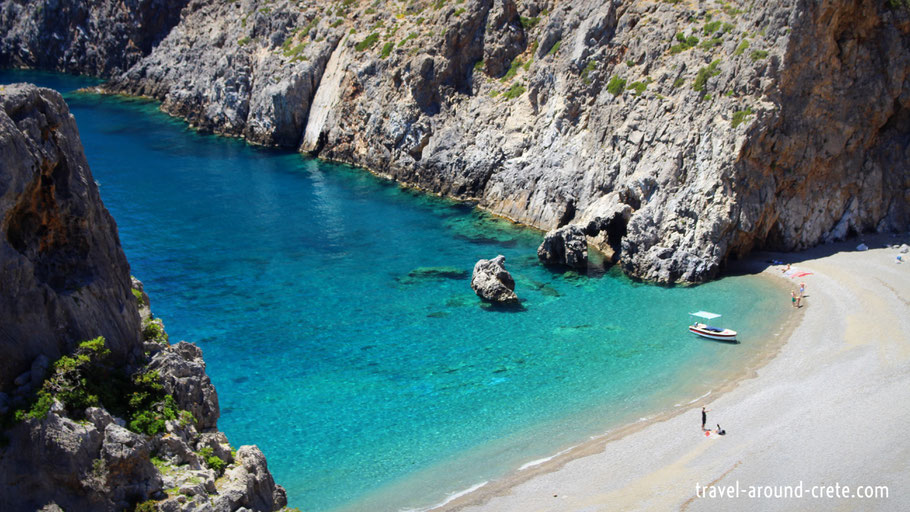 Agio Farango is a wonderful hike for the whole family.
The gorge is easy to reach, easy to walk through and neither steep nor dangerous. Who goes till the end of the ravine is rewarded with a fantastic view. The beach is clean and invites you to bathe.

On the way through the canyon, you pass a small church named Agios Antonios. The walking time is between 1 and 3 hours depending on where you park your car.

The first car park is at the end of the asphalt road opposite the Odigitrias monastery.
From there, go along the gravelroad for approximately 3.5 km until you reach a crossing. If you go straight, what we do not want in this case, you will arrive at Kali Limenes, which you should defenitely visit an other time!
However, we turn right and continue on our way to the ravine. For all those who do not come there with a 4x4 or at least a car which has a lot of ground clearance (e.g. Fiat Panda), think about to park the car at the latest at this crossing, since the road is really bad and it wont get any better.
From this intersection it is only 2.5 km until you reach the last parking lot in front of the canyon.
You will find plenty of space to park your car! :)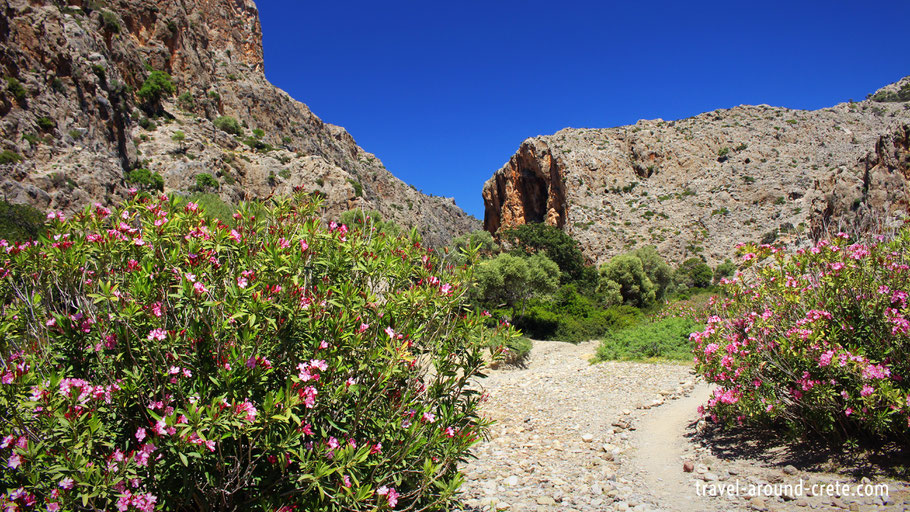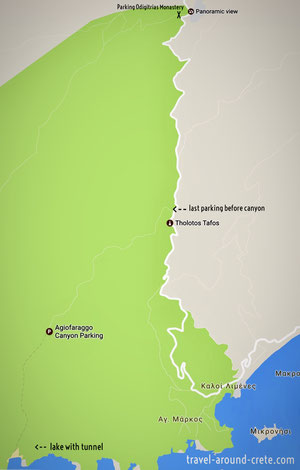 From here you can only continue on foot. You walk along the brook bed and you will have to cross it one or other time. If you take the trip in the spring, water runs down the stream and you will find many tadpoles.
Even in the summer one can make this hike without any worries, as most of the time you walk in the shade.
Through an oleander forest the path winds along the brook bed until you come to a little church.

In front of the church is a water pump with "supposedly" drinking water ... but I would rather bring a few water bottles as I do not trust the quality of the water or the water quantity from the well.

Around the church climbers sometimes camp, as this canyon is great for climbing. There are different degrees of difficulty. Since I am not a great climber I cannot give a more precise statement.
Also you will find funny stone structures around various old olive trees which are probably used as so-called "power places".
Continue along the creek bed and you arrive in the beautiful and secluded bay of Agio Farango. Sit down, enjoy the tranquility and breathtaking views of the Lybian Sea.

Anyone who still does not have enough of hiking can go up a narrow path that goes past the church of Agios Antonios. It is not too difficult, but good shoes are necessary because the stones are very sharp. Up there you will find a small lake which is connected to the sea by an underground tunnel. You can climb down there and dive through a tunnel into the open sea.
Unfortunately, I did not have time to try, but if one of you has already done it, please write me your experiences! :)