Agia Fotini - Agia Anna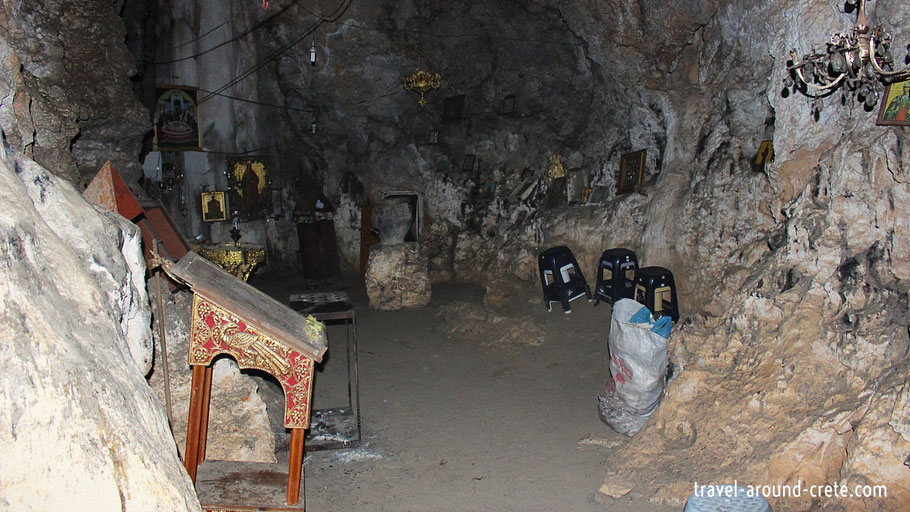 The cave of Agia Fotini you will find about 20 km away from Hersonissos. You take the exit of the highway direction Kastelli and then you follow the road to Avdou. On the way you will pass the Village of Sfendili which is worth to stop.
In the beginning of the village Avdou there is a sign which shows: to the cave 7 km
You always have to follow that sign to Αγια Φωτεινη (Agia Fotini). You will pass Odysseia Stables and if you don't have a 4x4 you should park your car there. The road gets really bad a short time after the stables.
In case another car comes against you, you might drive backwards for a few hundred meters as there is no space for two cars to pass each other.
When you finally get to the top, there is a parking and also a possibility to make a fire. So you can enjoy a small BBQ with a breathtaking view! 
A small path, about 100 stairs up in the mountain, and you reach the cave. You will need a flashlight to find your way to the church in the cave as there is no light at all. The church you will reach after 50 m. The cave is decorated with lots of pictures and strange dolls.
At the parking area to the right, there is the church of Agia Anna. The best place to relax before you get back to your car is under one of the big walnut trees.